2022 Performances
Tickets Online and at Pharmasave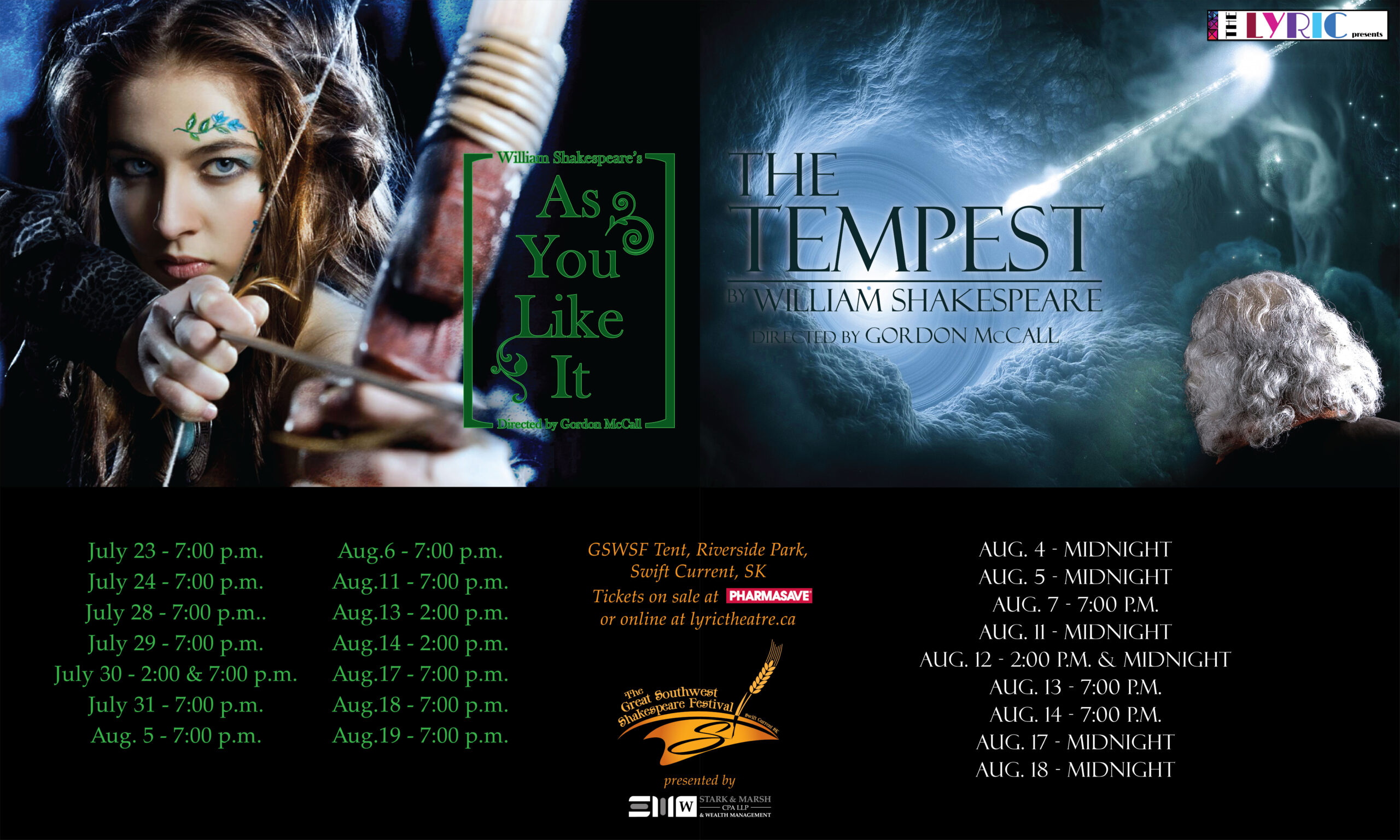 Curtain: 2:00pm, 7:00pm and 12am Midnight
As You Like It follows its heroine Rosalind as she flees persecution in her uncle's court, accompanied by her cousin Celia to find safety and, eventually, love, in the Forest of Arden. This romantic comedy, one of Shakespeare's most popular, is filled with Cupid's arrows, hidden identities and a love conquers all ending.
The Tempest is Shakespeare's final play and the only one written entirely from his imagination. It is not based on any historical source. In The Tempest Prospero, the exiled Duke of Milan, uses magic to conjure a storm and torment the survivors of a shipwreck, including the King of Naples and Prospero's treacherous brother, Antonio. Prospero's slave, Caliban, plots to rid himself of his master, but is thwarted by Prospero's spirit-servant Ariel.
Great Southwest Shakespeare Festival
As You Like It will present at 2 p.m or 7 p.m. from July 23rd to August 19th.
The Temptest will present for six performances only at 2 p.m, 7 p.m or MIDNIGHT from August 4th to 18th.
Tickets available online and at Pharmasave!
In the summer of 2019, Artistic/Executive Director Gordon McCall launched the premiere presentation of The Lyric Theatre's Great Southwest Shakespeare Festival with a joyful production of A Midsummer Night's Dream. It took place inside the city's blue and white event presentation tent on the banks of Swift Current Creek in Riverside Park, known affectionately to residents as Southside Park.
The production was a hit, as families brought their own lawn chairs to experience the words of William Shakespeare float upon the breeze of those beautiful summer nights and into the hearts of audiences young and old.
That summer, Gordon was also Creative Producer for the Opening and Closing Ceremonies of the Western Canada Summer Games in Swift Current, along with Associate Producer, Stefan Rumple, and the memorable music of Order of Canada companion, singer, song writer, actor, and producer, Tom Jackson.
In the summer of 2021, after a year's hiatus due to COVID-19, The Lyric Theatre produced its second presentation of The Great Southwest Shakespeare Festival, again at Riverside Park but this time in their new Festival tent, provided by the City of Swift Current. That Festival featured two plays – Shakespeare's ever-popular romantic comedy, Twelfth Night, and the spooky tragedy, Macbeth.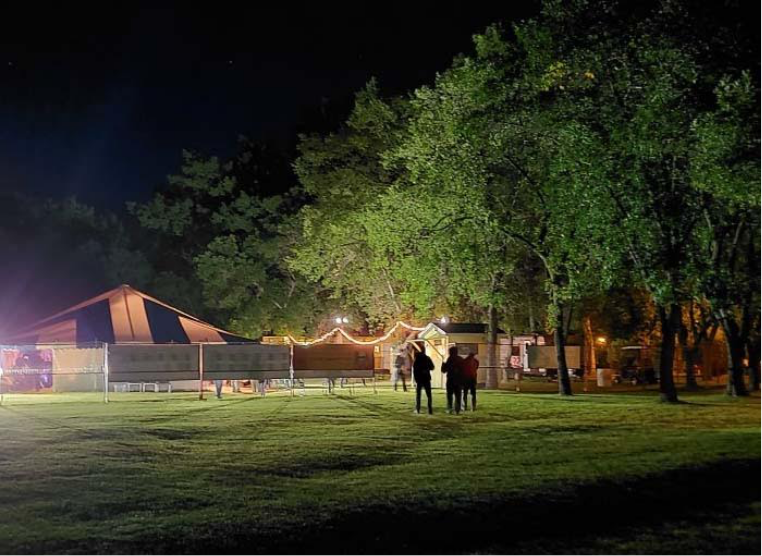 2nd Annual Shakespeare Summer Day Camp for Youth
This summer during the Great Southwest Shakespeare Festival, The Lyric will be presenting a Shakespeare Summer Day Camp for Youth! It's free to all youth from ages 8 to 12 on a first-come, first-serve basis.
Don't miss your opportunity for your children to have a ton of fun with our 2nd Annual Shakespeare Summer Day Camp For Youth. July 25 – 29, 2022 – children 8 to 10 years old. August 1 – 5, 2022 – children 10 – 12 years old.
Under Safe Places approved adult instruction led by Swift Current's own Tara Garcia, popular Golden West radio host and instructor of our Fairy Tale Factory children's series. Located at the Festival tent in Riverside Park, this Shakespeare immersion experience is free of charge to the children. Lunches and all theatrical supplies will be provided by The Great Southwest Shakespeare Festival. Moms and Dads are welcome to participate as volunteers as required. The camp takes place approximately 4 hours daily plus a 1/2 hour lunch break – lunch provided.
Children will experience the wonder and fun of the world of William Shakespeare and Elizabethan England. At the end of their week, the children will participate in a group Shakespeare entertainment for families and friends.
If you would like your children to participate, please contact, Artistic Director, Gordon McCall at  thelyrictheatre@gmail.com or phone 306-773-6292
Great Southwest Shakespeare Festival 2021 Sponsors